School Supply Swap Party
This shop has been compensated by Collective Bias, Inc. and its advertiser. All opinions are mine alone. #GoldfishLunchSmiles #CollectiveBias
School Supply Swap Party. I can't believe the summer is nearly over. I am so sad to see this one end. Next year is such a monumental year for our family…our oldest will finish high school, and our youngest will finish elementary school. But, we went to Walmart to gather most of our school supplies recently, before all the huge crowds…and we chatted about the upcoming school year, and how we could make it super special for all the boys. They suggested a back to school party…with a twist. We would shop for some of the base school supplies and a few special items, and grab several of each. Then, we would invite our friends to do the same, and host a school supply swap. This is a great way to use up the extra supplies from previous years, and enjoy the company of friends. And, it gets the kids excited about the upcoming school year.
Of course we couldn't host a party without snacks. At Walmart, the boys picked Pepperidge Farm® Goldfish® Flavor Blasted® Xtra Cheddar Baked Snack crackers and Pepperidge Farm® Goldfish® Colors Baked Snack crackers, apples, and carrots. My whole family loves Goldfish® crackers. Bulk carton Goldfish® crackers are the perfect afternoon snack, and for just $5.98 for a large box, the price is unbeatable! We already had fun apple shaped drink bottles and ice water for the party. Then, we wandered over to the school supply aisles and started gathering school supplies and reusable Walmart shopping bags for our swap party! (Walmart has an amazing supply list resource online too!) I also wanted to make sure each of our friends had a way to make their child's day a little more special. My friend from Pineapple Paper Co. created the cutest little lunch box notes for our party and is letting me share them. (download them at the bottom of this post). These sweet lunch box notes paired with Goldfish® crackers and fruit are sure to bring a smile to your child's face during the school day!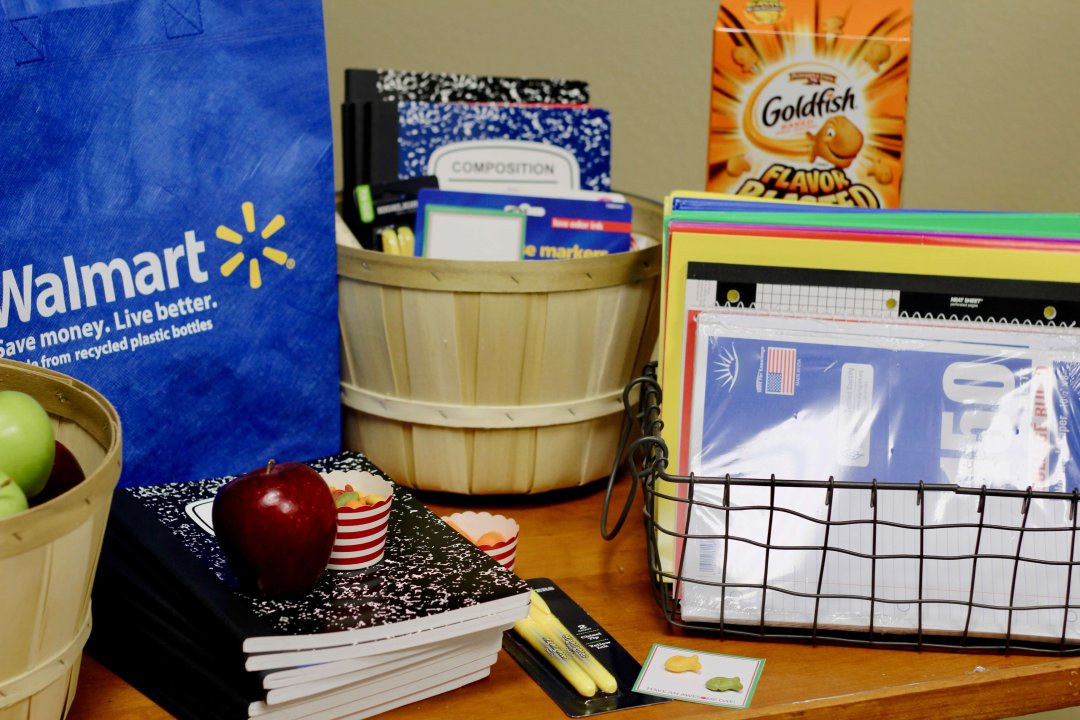 Interested in finding these Goldfish® crackers for your family? Hover over the photo above to click through to Walmart.com and buy them…no, really, do it! So easy, right??
To purchase the produce featured in the image above, find a Walmart near you!
On the day of our swap, I had the boys put small school supplies in an apple basket. Paper and folders were put in a metal basket. Another apple basket was filled with red and green apples. We used my vintage school desk as a party table. My oldest son filled treat cups with carrot sticks, and Goldfish® crackers. Since the school desk was filled with school supplies, we used an old ladder as the snack station. One of the boys wrote elementary style letters and numbers on our chalkboard and it was the perfect party backdrop!
Once our friends arrived, they were encouraged to fill a reusable Walmart bag with school supplies. Snacks were enjoyed while the kids excitedly chatted about the upcoming school year, classmates, schedules, and teachers. I passed out printed lunch box notes to the parents.
Everyone left with a bag full of school supplies, a belly full of delicious snacks, and hearts ready for the new school year!

Get more back to school inspiration with Goldfish® crackers here.
Tags : back to school, Goldfish, Kids Parties, Kids Party